Would you like to prepare your own poster like this?
In that case you should follow the instructions summarized by Shilaan Alzahawi in "Academic conference posters using posterdown".
To start the story at the beginning you should be acquainted with R, a "free software environment for statistics and graphics".
You can get any scientific support from R. It is very popular in data mining (or data science), R ranks 16th in the TIOBE index, a measure of programming language popularity.
While "R core" is developed by a small team its scope is exponentially increased by the thousands of contributors who develop and integrate additional features to the core capabilities. These so called packages cover all aspects of data manipulation and analysis, visualisation and distribution of the achieved results. The number of packages is continuously increasing, it is over 20K and majority of them is special tool to address a specific problem.
This is also true for the package Posterdown, which is about support of ready to print scientific posters.
Posters generally has a fixed structure, similar to that of introduced in the picture (Introduction, Hypothesis, Methods, Results, Conclusions). Normally the dimensions are also fixed (36'' X 48'' or 42'' X 56'') and you have to organise your article considering these conditions.
Posters are normally combination of text, tables and graphical elements, where the title can have a special format (e.g. containing the logo of the authors' institutes) and sometimes even the footnote gets a specific highlight.
With the application of R's Posterdown package you can choose different templates (actually from three templates).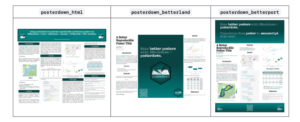 After that you have the sections to place your content. Though it sounds easy – and it is – placing a table or a graph exactly according to your taste might require some expertise in R and TeX (LaTeX). To get a boxplot as shown in the Posterdown example) is not really complicated but the explanation can be found elsewhere outside of Posterdown universe.
The soul of the Posterdown is the Markdown technology, which provides a ready to print output in any dimension. The secret component is the integration of TeX or LaTeX technology which is another not short story. The point is that it works. And you can try it for free of charge!